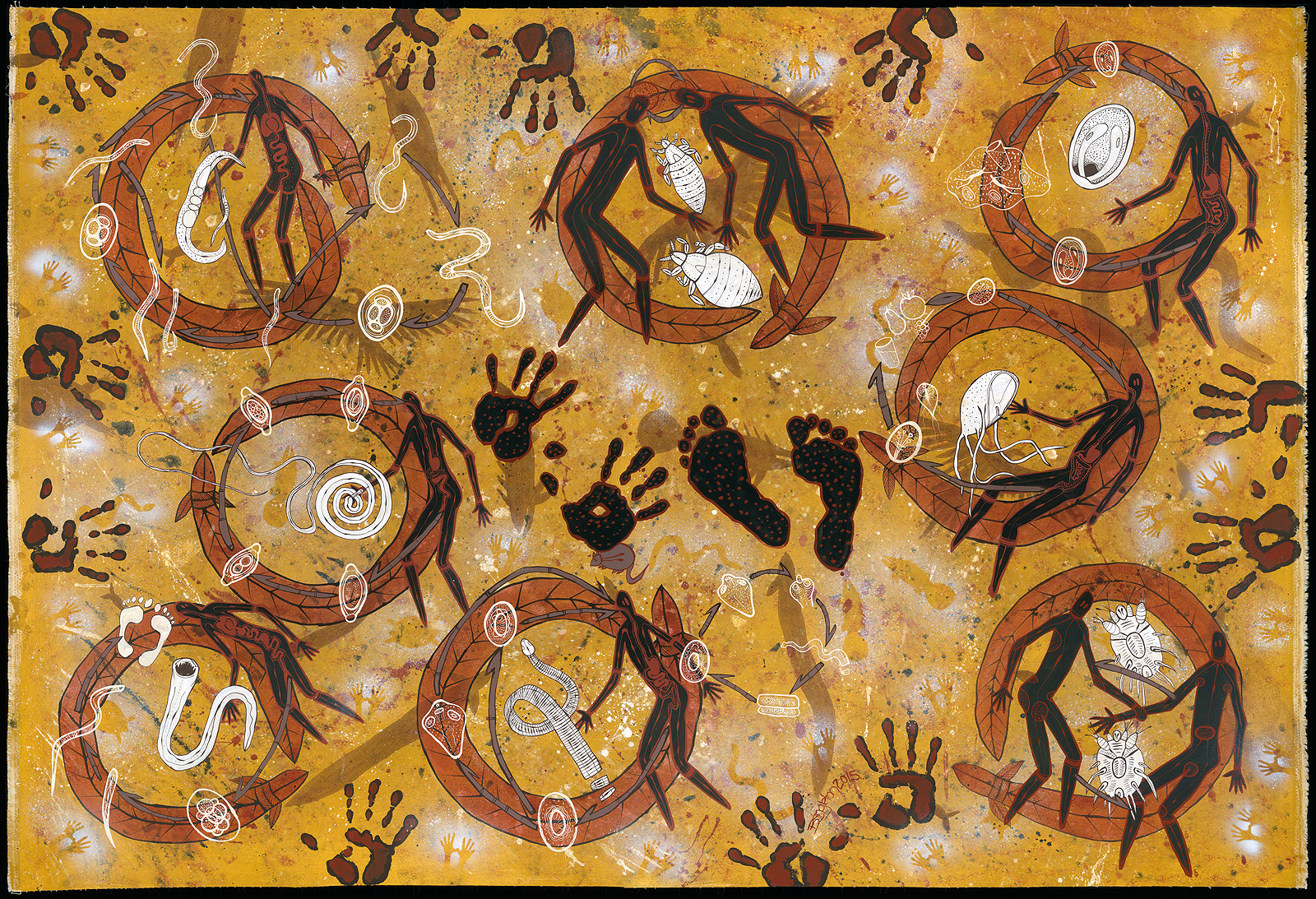 With funding from Inspiring Australia, the Australian Society for Parasitology has entered into a unique partnership with a group of artists in Far North Queensland. The project, which centres around Bernard Lee Singleton's magnificent painting, Gula Guri mayin (which means "Heal the body"), explores themes of parasites and health.
Gula Guri mayin was animated by artists Russell Milledge (James Cook University) and Tai Inoue, and launched during 2018 National Science Week events.
In addition to Bernard's painting the project comprised digital art by Tai Inoue and a performance piece which incorporated work by Bernard, Tai and Dave Masters. The project represented the final part of a larger national $30K Inspiring Australia grant that the Australian Society for Parasitology won to host free public events to explore the world of parasites.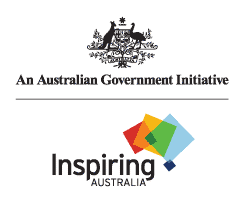 Professor Nick Smith, from the Australian Society for Parasitology and a researcher based in Cairns, said the aim of the project was to raise awareness of the impact of parasite-related illness on Aboriginal and Torres Strait Islander communities.
"Communities have a much better chance of managing these conditions if people understand the lifecycle of the parasite involved. We've discussed our understanding of the parasites with Bernard and Tai, and we're excited to see how they, as artists, will choose to represent that."
The work formed a central part of National Science Week activities in Cairns in August, and will also feature at the Cairns Children's Festival in May – both at the Tanks Arts Centre in Cairns.
The Wuba Dance Troupe and Revealing Parasites
At the opening of National Science week in August 2015, the Wuba dancers (Red Ochre), performed a traditional piece against the backdrop of Gula Guri mayin. In a piece of live digital art, created by Dave Masters and Tai Inoue, the movement of the dancers revealed the painting on a large screen.
Bernard Lee Singleton is an artist born in Cairns and raised in the small Aboriginal community of Coen, Cape York. Bernard's mother is a Djabuguy woman born in Mona Mona mission and his father is an Umpila (east coast Cape York)/Yirrkandji man from Yarrabah mission. // Website : bernardleesingleton.com
Tai Inoue is a local artist from Kuranda who records and captures sounds for use in film, interviews and music projects. He uses art as a way to understand the world of science, using imagination to explore scientific ideas beyond the limits of traditional scientific methodology. // Tai's Soundcloud // Tai's e-mail: tai.inoue@my.jcu.edu.au
With a dynamic Audio Visual career spanning over 20 years, Dave has been involved with hundreds of productions around Australia. Utilising the myriad of skills gained through this process, Dave has emerged as an artist, with a unique blend of techniques; exploring and manipulating the interconnectivity between various audio and visual technologies, in order to manifest experiences that are a delight to the senses and challenging to our perceptions of Art vs Science.