Climate-Focus for Parasitology
We are in a climate crisis
With global warming of just over +1°C, we see deadly wildfires, dangerous heat-waves, melting of the Greenland ice-sheets past its recovery point, over 20cm  rise of sea levels. Not only have we experienced the four hottest years on record in the last five years, but these will seemingly be among the coldest years of the next century. Without significant climate action now, we are heading towards a nightmarish +5°C world.
The climate crisis is also impacting parasitic diseases worldwide due to modifications in the distribution of vectors, population displacements, increase in poverty and conflicts (see the "Climate crisis & Parasitic Diseases" flyer).
What has the ASP done so far?
In 2019, the ASP acknowledged the urgency and severity of the climate crisis by declaring a climate  and ecological emergency. The ASP supported the 2019 climate strike (just a year ago, on Friday 20th September): this year, the Australian school climate strike took place  on Friday 25th September, with the watchword "Fund our future, not gas". The ASP also circulated the UniSuperDivest campaign, urging the superannuation fund to divest from fossil fuels, providing members with a letter template to be sent to UniSuper. The ASP Treasurer has investigated the ASP investment portfolio and will be gathering further information if the ASP membership decide that they want to move forward with a more sustainable investment fund. Recently, the ASP Climate Focus Group was established with the aim of implementing meaningful changes within the ASP to help reduce our carbon footprint through action and communication on sustainability, climate and ecological crises.
The ASP Climate Focus Group for Parasitology: who are we, and how can you join?
So far, the ASP Climate Focus Group consists of: Andreas Stroehlein (The University of Melbourne), Coralie Boulet (La Trobe University), Lee Yeoh (The University  of Melbourne), Lisa Jones (ASP Executive Officer), and Thorey Jonsdottir (Burnet Institute). We meet every two weeks, on Tuesdays 1–2pm. If you are interested in this work, please email secretary@parasite.org.au
We are thinking of what the ASP could implement to alleviate the ongoing climate and ecological crises, for example, providing guidelines for the organisation of the annual ASP conference is on our agenda. The aim of this group is to implement changes within the Society to help reduce our carbon footprint through action and communication on sustainability, climate and ecological crisis. These changes will be implemented partially through our "Climate Focus Series" in the form of virtual workshops/seminars. Future seminars will include parasitology-focussed discussions (e.g. effects of parasites on climate change and vice-versa) and sustainability in our research practices (e.g. running a net-zero emission conference). We would love to hear what you want to see next! Please contact us to let us know secretary@parasite.org.au
"Climate-Focus Series"  seminars
ASP Climate Focus Series: Seminar 2 "Parasites and Climate"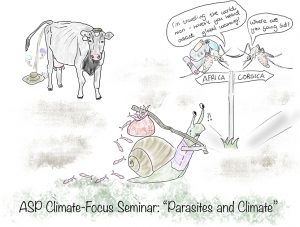 Our second awesome ASP Climate Focus Series Seminar was "Parasites and Climate" with Dr Andreas Stroehlein from The University of Melbourne on Thursday 4th March, 1:00pm – 2:00pm (AEDT). Dr Andreas Stroehlein is a Postdoctoral Researcher in Parasite Genetics & Genomics within the Melbourne Veterinary School, Faculty of Veterinary and Agricultural Sciences at The University of Melbourne and a committee member with the ASP Climate Focus group.
The recording of this ASP Climate Focus Series seminar "Parasites and Climate" is now available on the ASP YouTube channel https://youtu.be/BLz2tBcdACc
Awesome image by Thorey Jonsdottir, Burnet Institute.
The ASP Climate-Focus Group organised the first seminar of a Climate-Focus series, focusing on "Sustainability in the Lab", it was a success and we hope it inspired you in your research practices.
Thanks Rachael Ralph @my_green_lab and Eduard Willms (@hillandy lab) for your expertise in improving sustainable practices within scientific research.
The recording of this seminar is available to watch: contact Lisa Jones (treasurer@parasite.org.au). Below is a summary of what was discussed.
Laboratory practices: Assessment on energy & water usage, waste generation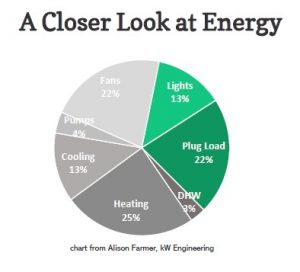 Rachael Relph is the chief sustainability officer at My Green Lab, a non-profit organisation aiming to improve sustainable practices within scientific research. Rachael started the seminar by reminding us that science is amazing, but we need to be conscious about the impact it can have and how we can change the current rules and adapt to "greener" options.
Laboratories consume up to 10x more energy as office buildings. While the majority of the energy use is out of our hands (cooling, heating, and air cleaning of the rooms), we can have an influence on a third of the energy use: 13% in lights, 22% in plug loads (see "Top tips for a more sustainable lab" below).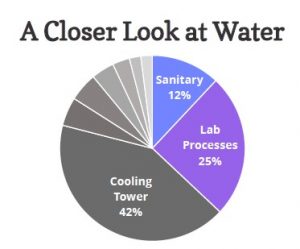 A typical lab building uses over 7.5 million liters of water each year! Again, most of the water is used to cool the building, but a substantial volume of water can be saved with improved practices (see below).
While the average Australian discards 130 kg plastic annually, the average scientist discards 1,000 kg plastic! On average scientists produce 6–7× more plastic waste than the average person.
So… what can we do to improve sustainability in our research practices?
Step 1: Interrogate your behavior: Think about your research, identify the energy, water and waste involved.
Step 2: What works for you: These changes are needed in the long run, so they need to be sustainable for you too.
Step 3: Start with something manageable: Choose a couple of changes you want to implement, make them a habit, see if they work for you, before moving to new changes.
Top tips for a more sustainable lab
Switch off lights and equipment

Turn off the light!

Fume hoods and biosafety cabinets in particular use a lot of energy (the equivalent of 3.5 and 0.5 homes respectively).

Identify equipment which can be switched off after use, at the end of the day, or cannot be switched off. Once this is done, you can use stickers of different colours to easily indicate if or when this piece of equipment should be switched off. For example

Green:

Turn off right after use

Orange:

Turn off at the end of the day

Red:

Never turn off

Freezers 

Increasing temperatures from −80°C to −70°C can save 30% of energy.

Keep an up-to-date inventory of the content.

Correct maintenance also reduces energy consumption: regularly remove the ice, check door seals, clean the filters and vacuum coils.

Join the international freezer challenge: 1 January 2021 (

https://www.freezerchallenge.org/

)

Waste: The 3 R's: Reduce, Reuse, Recycle

Review & Rethink your protocols: take a step back from "We've done it like this for years".

Ordering: can you buy in bulk (tips, tubes…)? Get in touch with your providers for greener options.

Recycling: Get in touch with your providers (can they recycle some of the products?) and with the cleaning contractors in your institute or building (e.g. can they organise recycling of soft plastics?).

Chemical waste: You might be able to recycle solvents (check "Green Chemistry" resources for more information). Talk to your providers for greener and/or recycling options.

Water usage

Autoclaves use a lot of water (over 19,000 L a week!): run them when full. Water-saving systems exist for autoclaves.

Add low-flow aerators to your taps.

Use the appropriate quality water: 3 L of water is required to make 1 L of deionized water.

Instead of using single-pass cooling think about re-circulating the water (if possible) or a Findenser.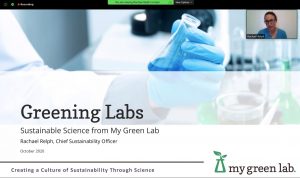 Dr Rachael Relph from My Green Lab started off the seminar on how we can make sustainable changes in our labs.
Sustainability in the Lab: an Australian perspective
Eduard Willms is a post-doctoral fellow in the Hills lab, at La Trobe University. He is leading the Hills lab journey in becoming the first "My Green Lab certified lab" in Australia.
Eduard pointed that funds are often available for such projects: he secured funding from La Trobe university to help establish a greener lab. Getting in touch with your institution will help: for example, Eduard established recycling of polystyrene and plastic packaging with the help of the university cleaning contractors and the stores. It can take some effort at the start to establish these, but if it works well, it can be rolled out to the rest of the institute. Get in touch with the providers too, for instance e-recycling of sequencing chips is possible.
Importantly, don't do it alone! Involve your colleagues: not only will this have more impact, but it will last longer as well.
Eduard provided us with an additional perspective: slowing down science could help, not only sustainability, but also science itself (Frith, 2020).
Dr Eduard Willms shared his journey in making the Hill lab at La Trobe University more sustainable.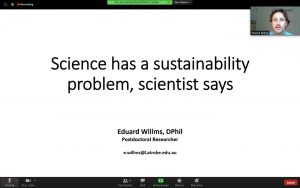 Check out more resources: