Join our online ASP Seminar Series Nick Fountain-Jones from The University of Tasmania speaking about "'Can wildlife management impact microparasite transmission and evolution? Lessons learned from hunting big cats" and Emma Halliwell from La Trobe University speaking about "Diagnostics for the identification of worm resistant sheep." with co-chairs Sarah Preston (Federation University) and Stuart Ralph (University of Melbourne). Our seminar will take place online via Zoom on Friday 10 December 2021 at 1pm AEDT.
Please register online using this
link
for your unique passcode to join the seminar.
Our awesome event image is courtesy Ken Logan Colorado Parks and Wildlife "Meet puma M87 – one individual important in the transmission chains we quantified".
Nick Fountain-Jones is a disease ecologist at the University of Tasmania in the School of Natural Sciences. I'm interested in particular in how modelling can be used to better understand parasite ecology. I work in a variety of systems but have a focus on carnivores in order to better manage disease in species in decline globally and heavily impacted by anthropogenic development. I try to bridge the gap between community ecology, network theory and phylogenetics by using one to inform the other. I use this combined approach, for example, to explore questions related to parasite transmission, phylogeography and community assembly. In particular, I develop machine learning, network methods and Bayesian phylogenetic approaches to address these questions. Hunting can fundamentally alter wildlife population dynamics, but the consequences of hunting on parasite transmission and evolution remain poorly understood. Here we present a study that leverages a unique landscape-scale quasiexperiment coupled with parasite transmission tracing, network simulation, and phylodynamics to provide insights into how hunting shapes feline immunodeficiency virus (FIV) dynamics in puma (Puma concolor). We show that removing hunting pressure enhances the role of males in transmission, increases the viral population growth rate, and increases the role of evolutionary forces on the pathogen compared to when hunting was reinstated. Changes in transmission observed with the removal of hunting could be linked to short term social changes while the male puma population increased. These findings are supported through comparison with a region with stable hunting management over the same time period. This study shows that routine wildlife management can have impacts on pathogen transmission and evolution not previously considered.
Emma Halliwell is a current Masters student with Professor Michael Stear at Latrobe University, in the department of Animal, Plant and Soil Sciences. Emma's work aims to improve the productivity, health and welfare of Australian Merino sheep.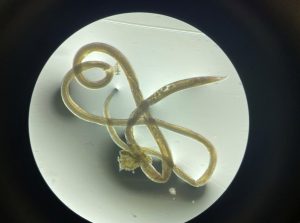 Gastrointestinal nematodes cost the Australian sheep industry approximately $436 million annually. The development of drug-resistant nematodes in response to the widespread use of anthelmintics is a major concern, and has created a need for more sustainable gastrointestinal nematode control methods. We explored the usefulness of eosinophilia as an indicator of resistance for the selective breeding of naturally GIN-resistant flocks.